——Why Can GS-JJ develop quickly?
There is a saying that saving time is saving money. If you have a chance to save money, why not to look and try it? GS-JJ is a good example, which develops quickly in recent years. Let's see how GS-JJ helps customs save money!
User Interface(UI)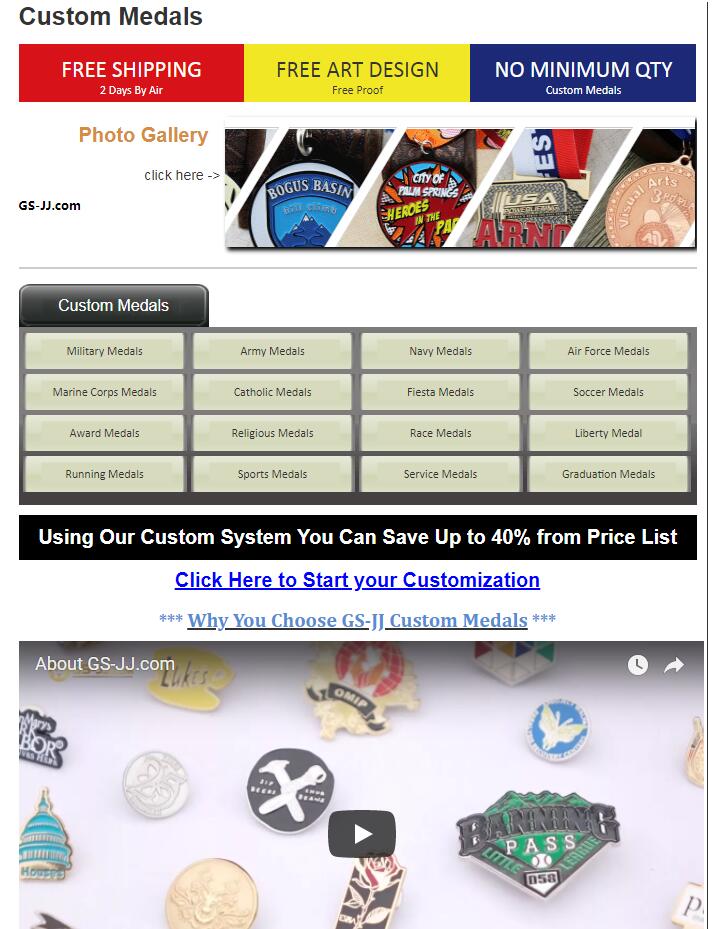 If you click medals, you can see there are sixteen related medals for you to know what it is about , when you need them and why you should choose GS-JJ. In the main page of custom medal, you can know the price according to your size and thickness. In addition, there is a small video about GS-JJ, which can help you know GS-JJ well.

From the bottom of website, we can clearly see three column-overview, product & orders, and blog & sample gallery. The left column is related to contact information, including creating your account, because sometimes you may have special discounts. But I will tell you that the most important thing you need pay attention to is exhibition and blog. Why? GS-JJ is mainly customization. In the exhibition, there are lots of samples from other customers. On the one hand, you can quickly know about one company's technological level and decide whether you trust the company or not. On the other hand, it can give you an afflatus and give you some idea about your products. As for blog, you can click here to see their introduction about their products or events. You can find lot of things here!
Exhibition: you can see products according to column" most popular" or price. Then, click and see its details.
Blog: you can watch blogs according to month or contents. If you are interested, you can comment on it and you will get a reply as soon as possible.


                                                                                                                 Exhibition – GS-JJ.com

Blog – GS-JJ.com

Automated Quotation System

GS-JJ has automated quotation system. You can save time in sending and waiting e-mail. Only you have your idea, you can take steps to finish your order.

Table 1: Example of Custom Medals

Automated-Quotation-System – GS-JJ.com

Custom Service

GS-JJ has first-ranking custom service. Because they accept criticism, they believe that Modesty helps one to go forward, conceit makes one lag behind. Are you doubtful? looking at picture.

Although GS-JJ cares about rating, they care more about customer's comment. Because this is a faster way to make progress. Of course, if you have any problems, you can three ways : email at info@gs-jj.com, call at 1-888-864-4755, or fax at 909-8394501.

Price

Our price must be reasonable, because we are manufacturer. No agency fee. You needn't worry about what you buy is expensive. GS-JJ never fight for price competition.

Delivery

         Delivery – GS-JJ.com

Crafts and Design

         GS-JJ provides free design provided by outstanding designers. Each step was supervised by specially-assigned person. If sample is unqualified, and will be made again. So your product must be perfect one.

Due to a simple user interface, a easy automated quotation system, a first-ranking custom service, a reasonable price, fast delivery, exquisite crafts and free design, how can't GS-JJ develop quickly? At GS-JJ, you will save more time in looking for your products and design your products. Why not come here and order now? Time is money, and saving time is saving money. Just take action! Website: www.gs-jj.com.