When you click here, you may don't know you have fall in love with Mr. Baseball. Now, Mr. Baseball is coming now, are you prepared to date with him? Baseball is honored as national sport in America. Meanwhile, it is praised as "the combination of competition and wisdom" . No wonder you love Mr. Baseball so much!
Now, 2018 MLB regular season is under way. You may like Didi's grand slam, or Enrique Hernandez's sliding and spinning plays. Of course, you may be obsessed with a team, New York Yankees, Boston Red Sox or Seattle Mariners. Or you like his charm——homer. Think about it, why are we deeply attracted on earth?
Why are Mr. Baseball Popular?
Baseball is America's traditional sports project and has 1, 200 years of history in the United States. Many Americans grew up and practice baseball on the grass. The rules of baseball are suitable for entire family to learn. Baseball is one of the most important entertainment programs of their growing-up.
Although the statutory number of games for each team is at least nine people, really outstanding baseballer is just one or two people, which is easy to foster their baseball star. Once you become a star, you will become a hero, while the United States is a country that advocates personal struggles and heroes.
There are successful market operation of baseball club. The stadium is actually a baseball theme park, where you can eat and drink.
American entertainment project in general is relatively small, and the whole family usually go to the suburb picnic together over the weekend. Baseball game gives them a more exciting, suitable way for the whole family involved in entertainment. Therefore, the general arrangement of a baseball game starts at noon on the weekend and ends at dusk . You don't worry about going home. The whole family watched the baseball game together, and it was a very rare recreation.
If you love Mr. Baseball just for this, it is not enough. We love him because of his inherent, right? So, let's explore the inside of Mr. Baseball!
Baseball Spirits (Image source:www.quanjing.com)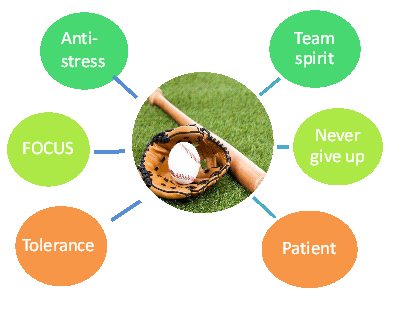 Above all the spirits of Mr. Baseball are most absorbing. In the MLB, each baseball player almost has their spirits. They need to focus on his baseball, exercise patiently, tolerant other people's fault, never give up, and have anti-stress and team-spirit. Besides, Mr. Baseball also likes helping others, why do we say that?
Helping family play together and enjoying home-warm happily.
Helping students make friends and learning how to "do as the Romans do".
Helping people to develop their excellent quality.
So your love of Mr. Baseball is not groundless. Sometimes, we may not meet Mr. Baseball and cannot throw a baseball in the baseball field. Why not own a love token? Baseball medals are appropriate. You can add the name, logo or picture of Mr. Baseball to remember. GS-JJ is a leading manufacturer in making custom medals, whose mission is offer their customers the best quality products at highly competitive prices and on-time delivery. It has automated quotation system. That means you can design your products in your size, shape and color. GS-JJ has kinds of sports medals, like volleyball medals, basketball medals and so on. If you are interested, you can contact our customer service or click here: https://www.gs-jj.com/medals/Custom-Medals
For Example(One Sample, basing on sports medals):