The 2018 World Cup is coming in Russia. The whole competition will last from 14th June to 15th July. Aren't you excited? As a senior soccer fan, do you know which soccer fan you belong to?
Types of Soccer Fans
Silly Fan: Although influenced by the warm atmosphere, he actually doesn't know about soccer. He must be called as "amateur".
Crazy Fan: while knowing about soccer, he completely is gripped by emotions, then falls in love with soccer, loses all track of time and even ignores the daily work.
Cold Fan: On the surface, he calms down and is never demonstrative. Sometimes, he will be a gentleman, but he pays more attention to soccer inside.
Narrow Fan: there is no international view and holistic view, and he only focus on his country or a particular team.
Fan-Fan: just as a fan chasing some hot stars, he doesn't understand the true great charm of soccer.
Betting Fan: he keeps a watchful eye on soccer just for gambling and making a profit.
Anti-Fan: there is always the mentality of the anti-trend. Some sympathize with the weak team and always support the most underrated team, others produces the reverse resistance of the influence of soccer game.
Bad Fan: he, so-called "football hooligan", belongs to a very destructive force, even for the evil of the Mafia.
Sapiential Fan: he truly understands soccer, won't lose his reason because of mood, is good at analyze and judge objectively and professionally, has a international view of consciousness. Of course, he can take active, positive and proactive attitudes for the development of the world of soccer.
So you must know which soccer fans you belong to!
There are many soccer teams competing for the champion in 2018. Each year, some people will cheer while others have a pity for their team. So, in 2018, which team you will weep for? Before making a decision, let's know about the team briefly.
Table 1: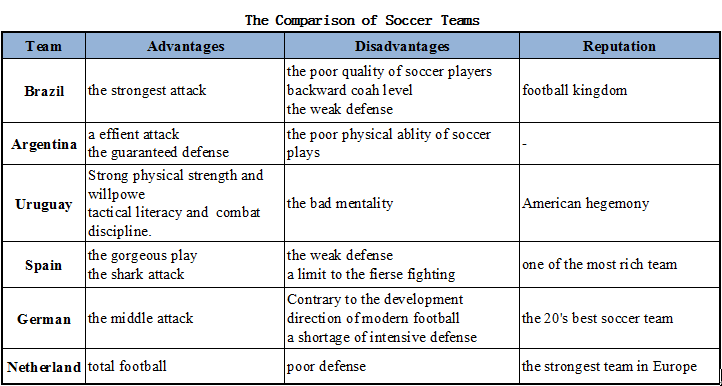 We may not feel the joy of their victory. They have their honor soccer medals and glorious history, but it doesn't matter. We can design our soccer medals for ourselves. If you have a small soccer team just for fun, why not design you own soccer medals for your team? If you are a member of cheerleaders or fans club, you can design your own soccer medals with your favorite team's names or pictures with any sizes and shapes. Only you want, we can design it for you! There are some samples for you! Takes a minute, you can also click here to know more about: https://www.gs-jj.com/medals/Custom-Medals
Samples: